What Is AAI?
Animal-assisted interventions are goal-oriented and structured interventions that intentionally incorporate animals in health, education, and human service for the purpose of therapeutic gains and improved health and wellness.

There are several forms of animal-assisted interventions:
Animal-assisted therapy (AAT)
Animal-assisted education (AAE)
Animal-assisted activities (AAA)
In all these interventions as they occur in professional settings, the animal may be part of a volunteer therapy animal team working under the direction of a professional or the animal might personally belong to the professional as both a pet and a partner in practice. 

At AAAIP we are deeply committed to helping professionals best integrate therapy animals into their practice as a safe and ethical treatment modality capable of benefiting all who are involved in the intervention. Learn more about AAAIP membership.

What is the human-animal bond?
The human-animal bond is a mutually beneficial and dynamic relationship between people and animals that positively influences the health and well-being of both.


AAAIP is a place for any professional who aims to incorporate the power of the human-animal bond into their work. Leaders in the field will connect with emerging AAI practitioners to share education, research, and a professional community so that together, we can standardize protocols, professionalize practices, and protect human and animal welfare within the industry.


---

Interested in learning more?
Check out the additional resources that will expand your knowledge of AAI and the human-animal bond.
AAAIP Courses
AAAIP offers courses available to AAAIP members at a discounted member price. Topics include:

AAI White Papers
Visit the AAAIP Learning Center and review these valuable resources that share the foundation of AAI.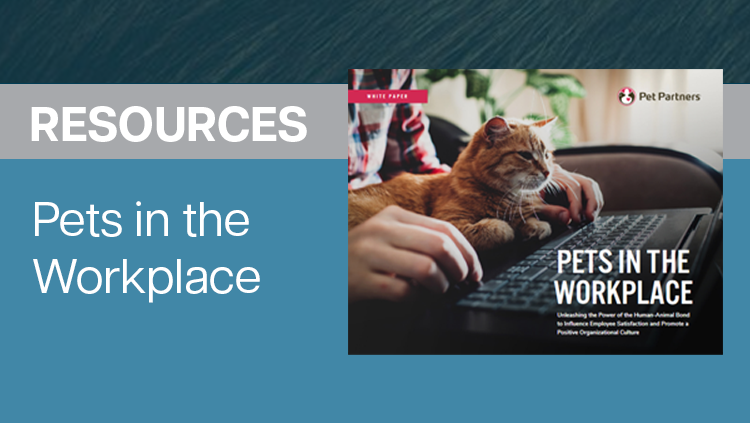 What Makes a Therapy Animal Different?
Learn the differences between service animals, emotional support animals, and therapy animals. Learn more.

The State of Animal-Assisted Interventions in Professionalized Settings
An overview of the foundational research, key findings, and information on the actions we are taking to address the needs of professionals working in AAI. Learn more.

Standards of Practice for Animal-Assisted Interventions
These standards are common among disciplines and specialties, and they help articulate the base desired and achievable level of performance and professionalism in a field. Learn more.

Meet the Leaders in AAI
View 13 recorded interviews with leaders in AAI. Hear from professionals, including:
Dr Leslie Stewart: Working with Therapy Animals in Professional Settings
Dr. Amy Johnson: Trainer, Teacher, and Advocate
Alison Leslie & Molly DePrekel: Mental Health Providers Incorporating Therapy Animals in Practice
---
Roadmap to AAI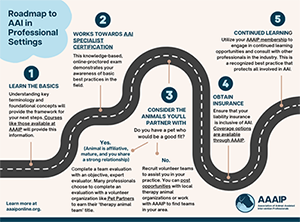 Are you looking to incorporate therapy animals into your vocational practice but don't know where to get started? This roadmap is for you. Here are the steps that have been identified by field leaders as best practices in partnering with therapy animals in professional settings.
---
For more information on AAI, join the Association of Animal-Assisted Intervention Professionals (AAAIP). Members gain access to AAI resources, research, and discounted courses while connecting with a network of AAI professionals.